The new SU-TRIO245 is a highly stable 3-axis manipulator with 25 mm of travel on each axis. The TRIO's synthetic 4th axis can be set in software as any angle between 0 and 90º for diagonal movement. Based on a lead-screw design with a smaller overall size and footprint than most manipulators, the SU-TRIO245 is ideal for applications that require 2 pipettes in one setup or for setups where space is limited.

The compact design of the integrated Control box requires minimal bench space. It provides quiet, fan-free operation, and is easy to use. No rack mounted controller is required. Position coordinates, in relative or absolute values, are displayed directly on the Control box. The TRIO manipulators use a logarithmic acceleration algorithm that eliminates the need for speed selection. As the knobs on the Control box are turned faster, acceleration ramps up. This allows for smooth and intuitive motion control of electrode position without the need to stop and change speeds or lift your hand from the knobs. A Y-axis lockout function (accessible by DIP switch) is also available, allowing X/Z-only axial movement during HOME and WORK repositioning.

An alternate configuration, the SU-TRIO235, removes the Z axis and replaces it with an adjustable diagonal axis. This configuration pairs a traditional X and Y axis with a diagonal axis that can be adjusted in angle with a set screw. The diagonal features 50 mm of travel with X and Y axes that have 25 mm of travel. On this model, we have added software to create a synthetic "Z-axis" by combining the diagonal and X axes in reverse of how we create a synthetic diagonal axis on our other manipulators. The SU-TRIO235 and SU-TRIO245 both feature the same precision bearing and lead-screw design.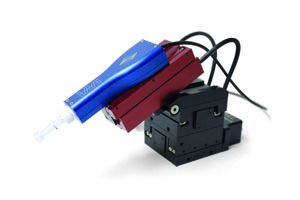 Five conveniently located buttons control all the functions you will need in normal operation.
Press and hold the WORK button to quickly store a work position. Pressing WORK after this returns the manipulator to the same location.
HOME sends the manipulator to a second position, often set for a point furthest from the microscope, which is useful for rapid pipette exchange. Press WORK and HOME simultaneously to easily set or modify the 4th axis angle.
When you are ready to begin recording data, the motor drive electronics can be put in a super-quiet mode by pressing LOCK.
Display coordinates can toggle between relative and absolute by pressing the RELATIVE button. Holding the button down will zero the relative coordinates.
PULSE activates a pulse movement mode that produces small, rapid bursts of motion that can be advantageous for cell penetration with sharp electrodes.
Designed with maximum flexibility in mind, a DIP switch on the controller changes the directional movement of the Control box knobs to accommodate the preference of the user.
Basic systems include the manipulator, controller, rod holder, 4 inch dovetail extension, mounting adapter plate, Z-axis vertical extension, cables, and power supply.